Lady With Horse Documentary Rereleased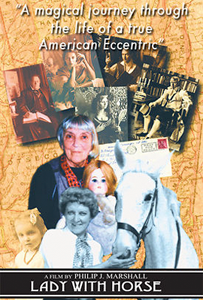 Filmmaker Philip J. Marshall has rereleased his 2001 documentary, Lady With Horse, in digital format. Profits from its sale will go to Lady Ostapeck. The 87-minute film is available online as a download at http://vimeo.com/ondemand/ladyo for $3.50. The PhotoCenter is offering a DVD version for $15. DVD orders through PayPal should go to payments@photocentertroy.org.
The DGA (Directors Guild of America director/producer has working in public television for 20 years. Marshall has been a filmmaker for more than 35 years.
Lady Ostapeck Portfolio Number Two
A second Lady Ostapeck book is available. The 126-page Somewhere In Time Portfolio Book Series No. 2 may be ordered for $32.50 plus shipping from the PhotoCenter, 404 River St., Troy, NY 12180-2821; phone 518-273-0100; info@photocentertroy.org.
The recently published exhibition catalogue is an exquisite 126-page book that also includes the series of portraits of Sandra Balint titled "Women of the World."
Lady was given an antique doll in childhood (the 1920s) that remained remarkably intact. Named Suoma Ellen Elizabeth, Lady created settings and appropriate garb to make portraits of Ellen Elizabeth as she traversed from infancy, through childhood, to maturity, and as a grandmother. This series of doll portraits, made with considerable attention to accurate detail, has never before been exhibited intact in the United States.
The children's portraits are made in Lady's incomparable Victorian-era style of portraiture, except that no artist of that period was Lady's equal in lavishing detail.
Sandra Balint returned to Lady's studio annually during the 1990s for a series of stunning portraits, each made to represent a persona, usually of a famous woman in a bygone era.
Contact Lady Ostapeck at Her New Address
Valley Health Services, Room 202-D
690 West German Street
Herkimer, New York 13350

Telephone 315-866-4726
email:ladyostapeck@photocentertroy.org