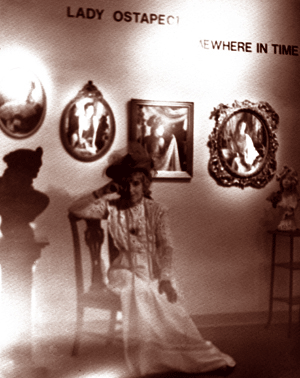 — Nick Argyros Photo

Beyond the pale … lost in time and in the hills of Fly Creek is the … Whimsy Hill Studio at the sign of the "Lady with Horse."
Lady left New York City where she was considered to be the negative retoucher with soul and bought a happily haunted old farmhouse. She and her horse rode the country roads and woods in exquisite loneliness. The aloneness became one of the sources of Lady's magic. It allowed her to recall all past talents, even the ones of which she was not aware.
With the knowledge gained having been an artist, a fashion designer, a student of historical environments, a retoucher with more than fifty years experience, and her strong intuition and empathy makes this photographer … unique.

I am happy to have broken rules and ignored guidelines … I couldn't be where the people are and the traffic is … I am lost in the boondocks … no money for equipment, lights, light meters, darkroom, cameras, lenses, reflectors, posing chairs, impressive reception room, etc., and 40 years doing negative retouching does not teach one to be a photographer when one is too old to be a retoucher.
So I became a photographer anyway … with a creaky camera stand and an 80-year-old camera with a broken shutter, working within a four by nine foot area in a very shabby old farmhouse, cluttered to the gills with props. The light is from a window and the exposure meter is a reusable intuition. I have learned (almost too late) that too much is too bad.
View Show Scenes at PhotoCenter, Troy, New York
— Lady Ostapeck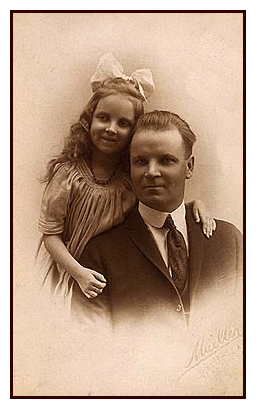 Lady Ostapeck and her father in the early 1920s. The photograph was taken at the Mueller Studio in New York City, which Lady O says was popular with those of Finnish origin.

Lady Ostapeck [1918 – ]
Born in Brooklyn of Finnish descent, Lady Ostapeck began her photography career as a negative retoucher working for many of the best studios in New York City. Tired of city life, Ostapeck moved to Otsego County in 1960 and began to seriously consider photography as a means of expression.
"I wanted to be an artist when I was a little girl, I used to live in the Metropolitan Museum and pretend it was my own," says Lady Ostapeck, who models herself of the 19th-century, soft focus artist, Julia Margaret Cameron — who like Ostapeck turned to photography later in life. Lady she found an antique Corona 4 x 5 camera in a Salvation Army thrift store and began to make whimsical portraits and narratives, which often have as much to do with Ostapeck's fantasies as they do the sitters. Believing that the photographs tell their sitters something about themselves they did not already know, the photographer poses them in props and costumes from her large personal collection.
She has exhibited at the Grosvenor Gallery, Cobleskill; Spiratone and Modernage, New York; Rochester Institute of Technology and the Light Source Gallery, Baltimore, as well as in Finland and Great Britain. Her work has been featured in such periodicals as Modern Photography and Popular Photography.
— Jane S. Johngren


At 87, this lady is still on the go
Countryside & Small Stock Journal, November/December, 2005

I have just devoured the latest issue of Countryside. Time stops until I have read it from cover to cover. Now I am laughing at myself and wondering what this 87-year-old lady is doing reading this magazine. I never canned a thing, I'm not going to build a chicken tractor or grow sweet potatoes.
I did move from New York City some 45 years ago to this hamlet, population 300. I'd be dead if I were still living in the city. The stress and fast pace takes its toll. Here I am in my very old farmhouse, and the fields and the healing hills are so beautiful.
The first winter here was 30° F below at times and I assumed that was winter in the country. It wasn't. I think we've had 30° F below only two or three times since then. I didn't know much about how to keep the potbelly stove going, so I crouched next to the kitchen coal stove to keep warm. I went to bed with all my clothes on — and more — and a load of blankets. Has anyone invented a heated toilet seat?
Fortunately I was going through my change of life and the hot flashes were a blessing.
The water supply was a spring way up on a hill. The pipes didn't freeze because the water ran down into the house and then out all winter long. Watercress grew under the spring water and I grabbed some and tucked it inside my jacket. I had a springtime salad for lunch.
One winter morning I was surprised to see the snow over my head when I opened the door. Patiently I shoveled little by little and threw it into the sink until I shoveled enough to he able to toss it to the side. That much snow fell only once. Now I have learned that shoveling snow is very good and cheap exercise, as is mowing the lawn.
This dear old house is never troubled with condensation; it doesn't know what insulation is.
When I moved in there was a drab kerosene stove. One cool autumn day I was lighting it and it got warmish, then warmer and warmer, and I was upset. I called the firehouse and asked them just to send one man up to check the thermostat.
Oh no, instead the fire siren screamed, engines came roaring up the road, the Sunday bar emptied, mothers with children — everyone came out to look. The lawn was full of natives. The fireman checked the stuck switch and that was it.
Then I bought the potbelly stove from the farmer down the road. How beautiful the aroma of a woodburning stove. How dangerous and worrisome is a woodburning stove. I exchanged that stove for a delightful parlor stove, dated 1874. Then I got a really safe pellet stove, but I didn't have the muscles to carry and toss in the 40 pounds of pellets. Now I have a propane heater. It's easy to clean, has a picturesque fireplace — and it's expensive.
The house is getting shabbier and shabbier. Some people stop by to ask if it is for sale. They like the setting, but would tear down the house. Others stop by and say they want to restore the house. It is a virgin house, still untouched by fixer uppers.
I have some wonderful ghosts here who have taught me how to cope in the country. The latest help was a good Catholic who wanted to watch the Pope's ceremony. Not at 3:00 a.m. was I about to. Then at 3:00 a.m. I awoke to the smoke alarm and rooms full of smoke. Plenty anxious, I was trying to find the source. It was an antique stuffed hassock that had tipped over on the hot stove and was patiently smoldering. I threw it out the door and it happily burst into flames. I then thankfully sat and watched the Pope's ceremony.
I have lots more to tell you but I guess this is all I can take.
How I love Countryside. It is so basic and down to earth. I have to laugh and then I am saddened by the superficiality of all the other slick magazines.
— Lady Ostapeck, Fly Creek, New York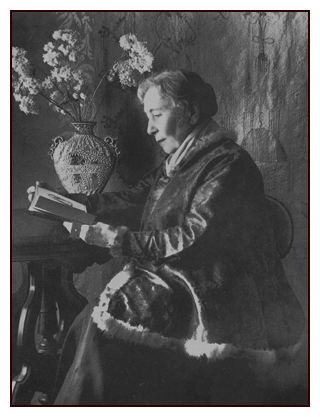 Russian Countess
by Lady Ostapeck
from The New Pictorialist Pictorial Print Portfolio,
November 1974

Lady Ostapeck is a Fellow of the now defunct New Pictorialist Society, an organization dedicated to resurrecting photographic motifs and styles that were all but forgotten for nearly three quarters of a century. Although the group that was founded in 1967 no longer is active, Lady Ostapeck has kept the pictorial tradition alive.
"At the turn of the [20th] century, Pictorialism was the most beloved of all forms of photography … later it became the most maligned … and today is all but forgotten. The New Pictorialists are devoting a fraction of their resources to making knowledge of this rare art form available to others."
— Catharina Marlowe, former editor, AVISO,
the New Pictorialist Society newsletter